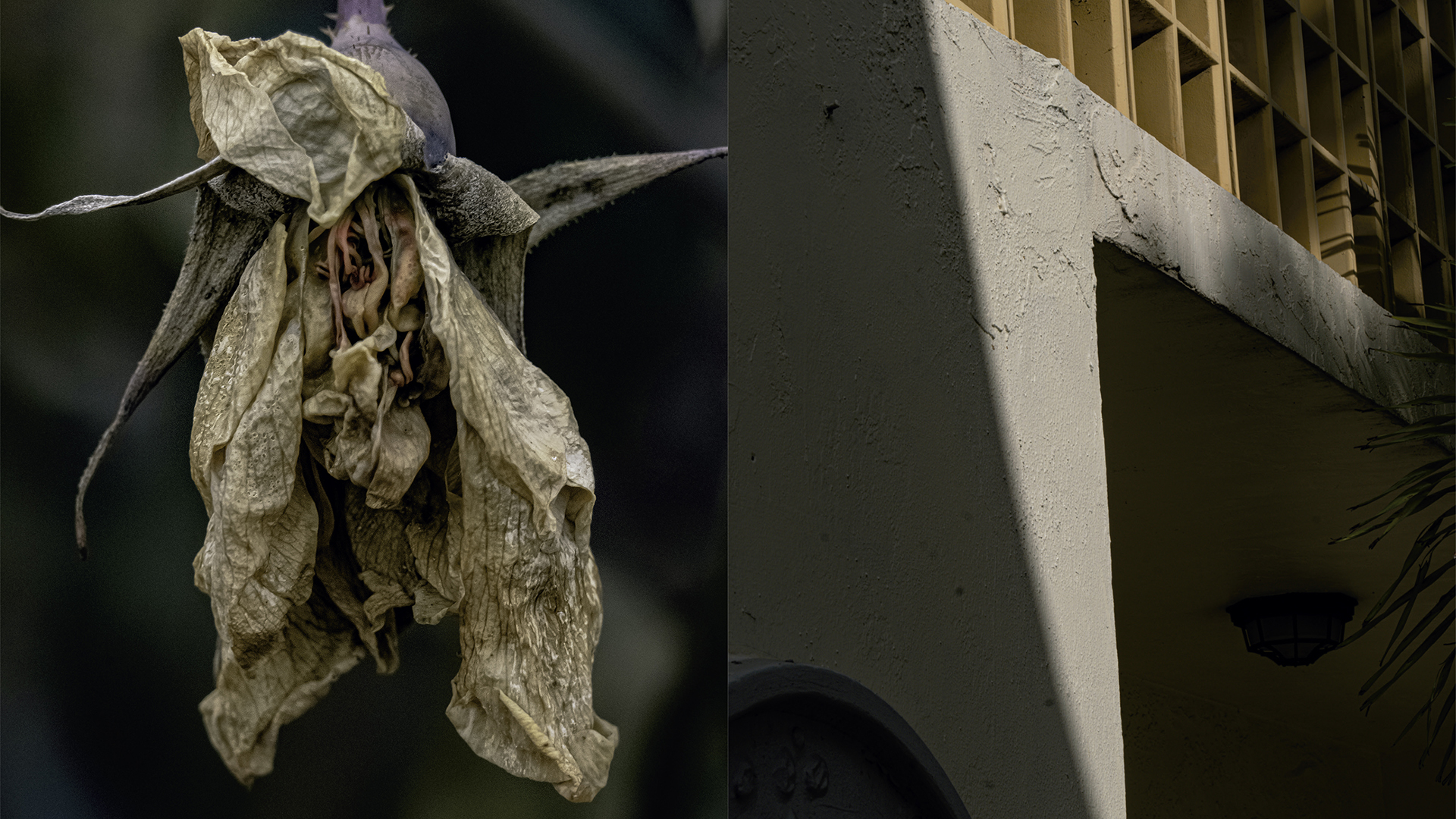 // 14.03.2023 - 30.04.2023 / Sala
SENESCENCE / THE DARK OF LIGHTNESS
J. Tomás López / Jeff Larson
---
The University of Alicante Museum is pleased to host the 10th PHOTOALICANTE International Photography Festival with the exhibitions Senescence and The Dark of lightness, showing the work of photographers J. Tomás López and Jeff Larson.
J. Tomás López, professor and former director of the Department of Art and Art History at the University of Miami, has participated in over 400 collective exhibitions and 40 individual exhibitions.

This time, he presents the exhibition Senescence, a term describing the deterioration of cells and natural tissues. López examines this process in withered flowers, extracting all their beauty to focus on the composition, structure and texture of the colour palette. The images work as a memento mori, reminding us of our own mortality.

This project was inspired by the work of two photographers: Anna Atkins and Irving Penn. Atkins made cyanotypes by placing a flower or plant on sensitised paper, pressed by a glass sheet and exposed to the sun, which resulted in flattened but highly precise outlines of the flower or plant; this photographic process captured a dying flower with no interpretation. Penn's colourful and three-dimensional work was published in the 1980 book "Flowers".

Jeff Larson, a photographer, artist and teacher, lives and works in southern Florida. He is currently a senior lecturer at the University of Miami. His work is concerned with the idea of everyday objects as sources of art.

The Darkness of Light explores light as a symbol of life and blossoming, darkness associated with chaos and death, and how both can coexist in harmony. The two concepts are used by Larson in his photographs in response to the isolation policies in place in recent years due to the coronavirus pandemic.

By observing high-contrast lighting situations within his own personal spaces, he captures moments of light in those areas to release his mind from the confines of quarantine and the overwhelming feeling of fear of being isolated from others. He plays with composition in his images, bringing something not unlike the normalcy of his being.