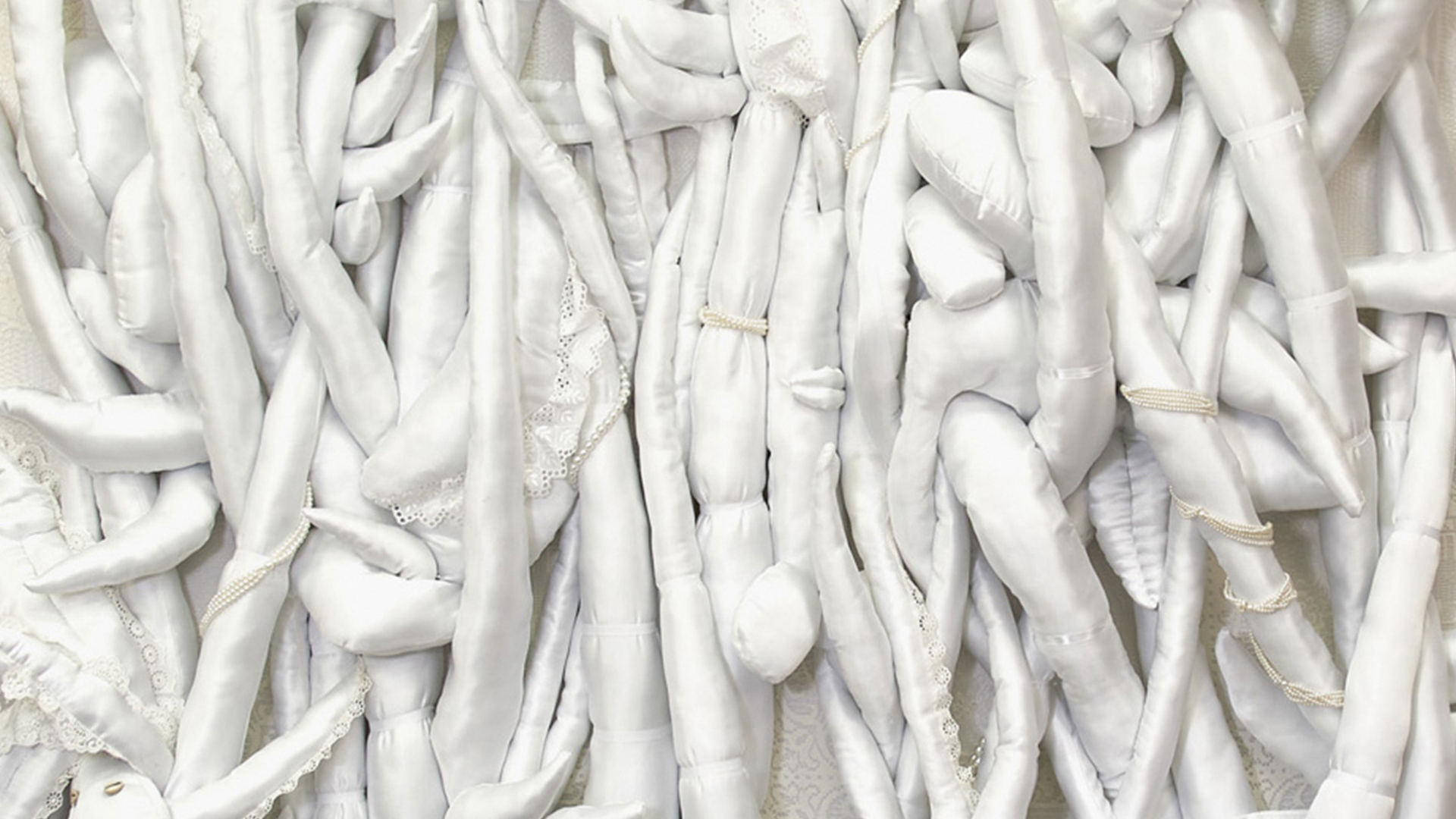 // 27.01.2022 - 01.05.2022 / Sala
JUNGLAS
Elio Rodríguez
---
A black Cuban artist born in Old Havana to a seamstress mother, Elio Rodríguez trained at the Higher Institute of Art and the San Alejandro Academy. He has lived in Elche for over 15 years. His alter ego is El Macho, a character who is a stereotyped Cuban man: seductive, teasing, sensual, sexual, joking, lewd, carnal, animal, exotic, ancestral, hypermasculine, savage, tropical, desired, primitive… El Macho is Elio himself, but taken to the extreme – the tool through which Elio gets to know himself, laughs at himself, and at the same time, using humour and irreverence, analyses Cuban identity and politics. The aim is to subvert the clichés, stereotypes, lies and traps of Cuban and global politics, economy and society.

The main character of this exhibition, however, is not El Macho, but the jungle, nature in its wild state. In the end, this is but another alter ego for Elio Rodríguez and, by extension, for El Macho. The vegetation we see here appears to be voracious, succulent, voluptuous, lustful, provocative, delicious, sexualised, warm, lush… And even though the starting point, or maybe the pretext, is his fellow countryman Wilfredo Lam's masterful "The Jungle" (1943), in which Cuban art and culture blend with European Cubism and Surrealism, Elio Rodríguez's jungles, ceibas and mangrove swamps are not about art or nature, but about identity, an Afro-Cuban identity that has not gone through the Western filter. An indomitable, ferocious identity, with roots in the land, impulsive and unruly.

Everything in Elio's work seems playful in character. His paintings, drawings, sketches, videos and, especially, his soft sculptures are all for fun – an interplay between volumes, textures and colours, with shapes that become intertwined, touch one another, enjoy and invade every corner of space. And yet, beneath the surface we find hints of darkness, of sorrow and unease, a crack for bitterness and grief to seep through. This does not mean that his works are sad, far from it. Still, all in all, Elio Rodríguez / El Macho's humour is rooted in frustration and sadness.